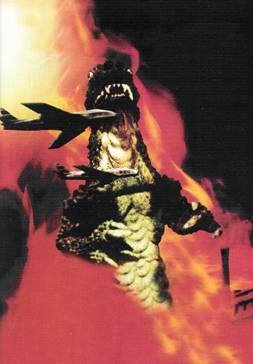 From the film of the same name, Agon was a televison series that got turned into a movie around 1980 during the 60's the japenese tested a whole lot of nuclear tests, where done in the pacific ocean, thus Agon was born dazed and mad Agon went on a rampage. Its steps so heavy and wide some people even fell to the doom down into the depth's. After trashing Japan for a while he went to the ocean to sleep, and when he awoke he ate a boat, with a small boy trapped inside fearing for his life, then he dropped the boat into an atomic reactor, and started to thrive in the flames. Unfortunately for Agon the reactor from the power plant went of burning Agon's body badly. Screeching in pain Agon returns to the deep blue sea never to be head of again.
Ad blocker interference detected!
Wikia is a free-to-use site that makes money from advertising. We have a modified experience for viewers using ad blockers

Wikia is not accessible if you've made further modifications. Remove the custom ad blocker rule(s) and the page will load as expected.