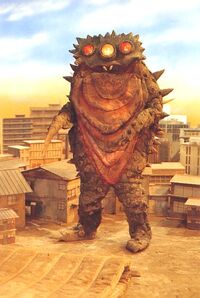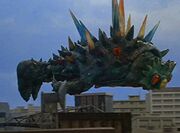 Beacon was a strange combination of a UFO and a crab.
Ultraman Jack
Edit
He is first seen following a plane above the skys,the plane was being hevaliy teleised was then destoyed for all to see, MAT went to investigate, and found the odd beast, beacon attacked the crew but decides that the small craft is unimportant and flys off. later two other plans aremysteriously controlled and smash into eatchover, MAT came and investigated but was again attacked by beacon, after deafeating the MAT crew beacon lands someplace in japan and starts destroying the nearby complex, a third attack by the mat crew was engaged attempting to destroy the creature but again failed eventualy ultraman jack came into action and forght with beacon, the monster was supriseingly resistant even when shot by jacks specium beam and beacon continued to hammer jack, eventualy fell but playing unconcious when beacon went to investigate jack rose and threw the ultra bracelet into beacons head and went throgh the almost inpenatraitebale beast's head, killing it instantly.
A inceribly cheapend down version of Becon appears in Redman several times, the first time he joins up with Sartan in an attempt to kill him, later he joins with Bemstar and in his final apperance was in episodes 126-127 were he joins up with Alien Bat and Sadora.
Ad blocker interference detected!
Wikia is a free-to-use site that makes money from advertising. We have a modified experience for viewers using ad blockers

Wikia is not accessible if you've made further modifications. Remove the custom ad blocker rule(s) and the page will load as expected.