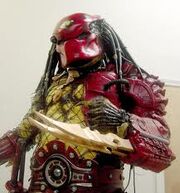 Also known as the samurai predator, the big red predator is the fan name of the minor predator in the fan film Batman Dead end. After Batman has killed the xenomorph and stopped the predator, he is confronted by three Yautja, among them is Big Red, and behind him are two more xenomorphs.
Trivia
The big red is so popular that its getting a figure from the company Neca at somepoint in 2012.
The big red is incredbly popular among fans despite never actually appearing in a official film.