Ruled by the evil Satoris (Marceau), an ancient cult of Canadian wrestlers, the Ziox, are bent on world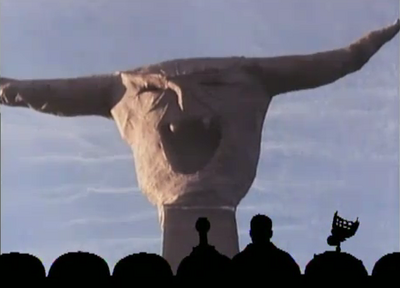 domination. Instrumental to their plan is a map to the ancient
Ziox cult ido
l,
the Canadian Devil
, recently discovered by a young boy, Troy (Malcolm). When the Ziox invade his home to recover the map, he flees and ends up in the bed of a passing pickup truck, driven by Zap Rowsdower (Mitchell). Rowsdower and Troy becomefriends and together search for the lost idol before the Ziox can claim it and take over the world.
[1]
Information
Edit
Final Sacrifice (also known as Quest for the Lost City) was a student film by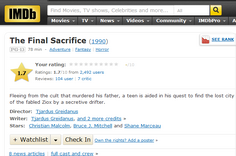 Tjardus Gredanus, a film student at the Southern Alberta Institute of Technology. The film was made on a budget of under $2,000 and none of the cast (made up of local theater actors and SAIT students) were paid for their roles in the film.
Bruce J. Mitchell, who played Zap Rowsdower, is confused with Christian Malcolm, who plays Troy, in the closing credits. According to Mitchell, the film ran out of money to fix it, and the mistake remained in the film. [2]Malcolm was a Drama student at SAIT and co-wrote the screenplay. [3]
Ad blocker interference detected!
Wikia is a free-to-use site that makes money from advertising. We have a modified experience for viewers using ad blockers

Wikia is not accessible if you've made further modifications. Remove the custom ad blocker rule(s) and the page will load as expected.