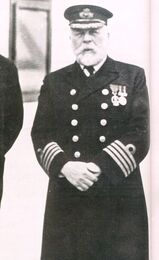 Captain Edward John Smith was the naval Captain of the ill fated Titanic which sank in 1912 after colliding with an iceberg. Captain Smith was among the 1,500 people who died when the ship sank.
Since his death there have been several ghost sightings of him in his old childhood home in Baswich, Staffordshire England. One formal resident of the house saw the ghost in his bedroom walking across the room. At one point the kitchen flooded and the owners reported that the dinning room became very cold.
Sightings continue to be reported by the residents of Captain Smith's former home.
Ad blocker interference detected!
Wikia is a free-to-use site that makes money from advertising. We have a modified experience for viewers using ad blockers

Wikia is not accessible if you've made further modifications. Remove the custom ad blocker rule(s) and the page will load as expected.