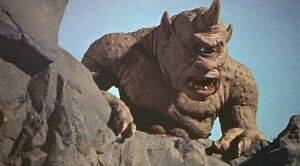 The
Cyclops
was a minor villain from the 1958 film "The 7th Voyage of Sinbad". The Cyclops lived on the island of Colossa, the Cyclops didn't like any visistors to the island and attempted to kill a magician called Sokurah who ventured to the island. When Sinbad and his crew arrived the Cyclops didn't take too kindly to their arrival and tried to kill them but Sinbad managed to get away. Sinbad later encountered other Cyclops that lived in the valley of the Cyclops.
A second Cyclops managed to track down Sinbad on the island of Sokura, but Sinbad unleashed the island's guardian dragon Taro and a fierce bettle took place between the Cyclops and Taro. After failed attempts at trying to kill Taro, Taro bit the Cyclops in the neck killing it instantly.
Ad blocker interference detected!
Wikia is a free-to-use site that makes money from advertising. We have a modified experience for viewers using ad blockers

Wikia is not accessible if you've made further modifications. Remove the custom ad blocker rule(s) and the page will load as expected.