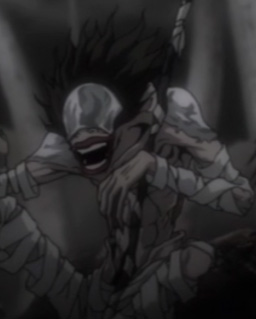 "
Why you workin so hard?
" -
Deridovley to Ryuk
Deridovley was a somewhat lazy Shinigami. He was friends with Gook and Ryuk. He was a gambler and unlike Gook was somewhat more successful at it.
In the Death Note anime, he is seen in the first episode gambling and winning over Gook, with Ryuk watching in bordem in the distance. He and Gook then witness Ryuk descend into the human world. He is only briefly present throughout the rest of the series being seen in flashbacks to the Shinigami World and talking about activites of Ryuk.
Ad blocker interference detected!
Wikia is a free-to-use site that makes money from advertising. We have a modified experience for viewers using ad blockers

Wikia is not accessible if you've made further modifications. Remove the custom ad blocker rule(s) and the page will load as expected.