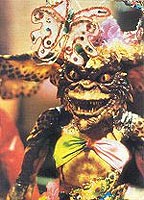 The Exotic Gremlin (possibly female) was one of the various Gremlins that was spawned by either George, Lenny or Daffy. It was leading the Konga Gremlins through Clamp Towers. She is later killed along with all the other Gremlins (minus Greta) by the Electric Gremlin.
Ad blocker interference detected!
Wikia is a free-to-use site that makes money from advertising. We have a modified experience for viewers using ad blockers

Wikia is not accessible if you've made further modifications. Remove the custom ad blocker rule(s) and the page will load as expected.