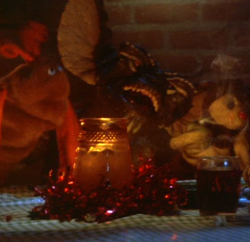 "Dee Bo Budi Dee Bo Budi" - Hand Puppet Gremlin
The Hand Puppet Gremlin was spawned from Stripe. He was one of the Gremlins that invaded Dorrys Tavern. Whilst the Humpery Bogart Gremlin is in a sombre mood the ecstatic Hand Puppet Gremlin comes up and starts mocking him, the Bogart Gremlin quickly pulled out a mallet and smashes him round the head, knocking him out. later at the Kingston Falls Movie Theater he is one of the Gremlins killed in the gas explosion.
Ad blocker interference detected!
Wikia is a free-to-use site that makes money from advertising. We have a modified experience for viewers using ad blockers

Wikia is not accessible if you've made further modifications. Remove the custom ad blocker rule(s) and the page will load as expected.