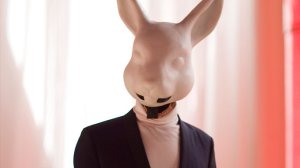 Mad March was a foul mouthed assassin who spoke in a Brooklyn accent that was apparently killed by the Mad Hatter. The Red Queen gets the Carpenter to resurrect him but due to Marches body being deprived of a head the Carpenter replaces it with a china clockwork head. He had a special nose for blood and was able to track its scent from miles. He is used by the queen to hunt Alice and the Mad Hatter and eventually finds them and whilst Alice is sent to the Red Queen the Mad March starts to torture the Hatter, but the Hatter escapes and smashes his head in.
"Piss off you cow"
"Cut the crap and tell me where the hell I can find this little broad."
"Thank you your majesty your were always a fat stupid bitch along with your dumb ass husband"
"Why is a raven like a writing desk, JUST TELL ME WHY A GODDAMN RAVEN IS LIKE A FUCKING WRITHING DESK"
"I SEE YOU IN HELL YOU HAT WEARING CUNT!"
Ad blocker interference detected!
Wikia is a free-to-use site that makes money from advertising. We have a modified experience for viewers using ad blockers

Wikia is not accessible if you've made further modifications. Remove the custom ad blocker rule(s) and the page will load as expected.