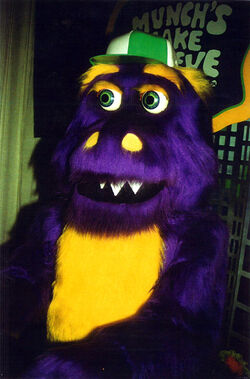 Mr. Munch debuted in 1978 at the 2nd PTT. He replaced Crusty the Cat. He was originally voiced by Scott Wilson. In the portrait/shelf stage, Munch was placed behind closed doors, similar to Pasqually. He was originally portrayed as slower witted than the rest of the other "nitwits". When the Rocker Stages and C stages debuted in '87 and '88, Munch was placed inside of windows along with Pasqually. When CU occured, Munch was made the keyboardist and leader of the band. In 1994, when Scott Wilson quit doing Chuck and Munch, Duncan Brannan, who was doing Chuck, took over as Munch. In 1999, the film 'Chuck E Cheese in the Galaxy 5000', Munch was voiced by John Bowen, who also does Pasqually. In 2014, Chris Hill took over as the voice of Munch.
Ad blocker interference detected!
Wikia is a free-to-use site that makes money from advertising. We have a modified experience for viewers using ad blockers

Wikia is not accessible if you've made further modifications. Remove the custom ad blocker rule(s) and the page will load as expected.