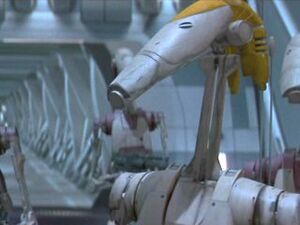 OWO-1 was a OMM Command Battle Droid that worked on board the Saak'ak, he was sent to check the bodies of the jedi knights Obi-Wan Kenobi and Qui-gon Jin after they had been gassed. mutch to his surprise they wernt dead as the gas had malfuntiond, the jedi boke out and destroyed him and along with his squad.
Ad blocker interference detected!
Wikia is a free-to-use site that makes money from advertising. We have a modified experience for viewers using ad blockers

Wikia is not accessible if you've made further modifications. Remove the custom ad blocker rule(s) and the page will load as expected.