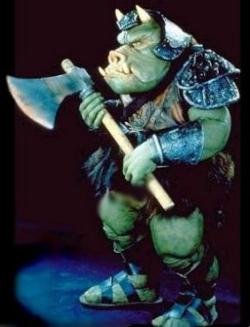 Ortugg was the vicious leader of the nine Gamorreans stationed at Jabba the Hutt's palace. He was incredibly loyal to Jabba, as long as he was given the best meals that is. He was sent to spy on Jabba's accountant Tessek, who deliberately caused him to lose money. He along with fellow gamorrean Rogua was present when C3-PO and R2-D2 arrived at the palace. Later when Luke arrives at the palace, he and Rogua attempt to stop him and confront him, only to be force checked to death by Luke.
Ad blocker interference detected!
Wikia is a free-to-use site that makes money from advertising. We have a modified experience for viewers using ad blockers

Wikia is not accessible if you've made further modifications. Remove the custom ad blocker rule(s) and the page will load as expected.