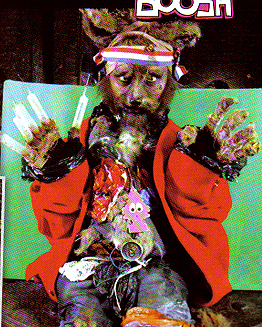 the crack fox, once known as jerome was once a highly esteemed member of burcolic cambridge, he traveled to london after finding an issue of OK magazine, he became obbsesed with the lower class lifestyle before long he was completely bankrupt. at somepoint he moved into the tower high mountin of bin bags, he was discoverd by vince, the crack fox triked vince into alowing him into naboos shop were he stole a special remedy, he amased an army of underground rejects "such as the bin bag bitches" to take over the world, the captured vince and howard when they tried to get the potion back but a tramp that vince had earlier brefreind, the crack fox killed the tramp and chased after them, but fell into a rubbish truck and was compressed to death.
Ad blocker interference detected!
Wikia is a free-to-use site that makes money from advertising. We have a modified experience for viewers using ad blockers

Wikia is not accessible if you've made further modifications. Remove the custom ad blocker rule(s) and the page will load as expected.