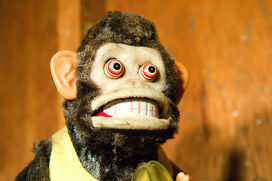 The Monkey was a toy monkey doll that lived at Sunnyside daycare under the command of the evil teddy bear Lotso. The Monkey's job was too keep watch at night by montering the security camera's to make sure no toy could escape. He appeared to be mean and enjoyed his work like the rest of Lotso's henchmen, but after Woody and the gang stop Lotso he reforms in the end and helps make Sunnyside a toy paradise.
Ad blocker interference detected!
Wikia is a free-to-use site that makes money from advertising. We have a modified experience for viewers using ad blockers

Wikia is not accessible if you've made further modifications. Remove the custom ad blocker rule(s) and the page will load as expected.